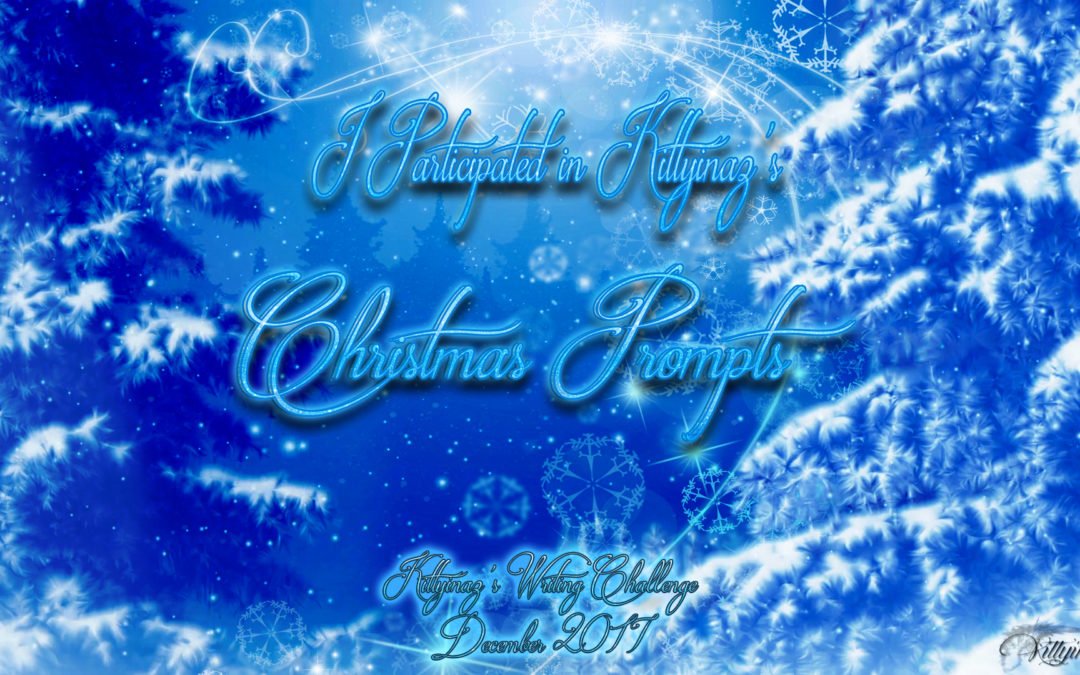 Yep, it's that time already.  I know I am running late, but RL has been a real pain this year.
I went back to the prompts since it is what I promised.  As it stands, these are the 10 for this year.  And I did throw one in there that made me laugh.  If you guys can work with it, I would be one happy little Kitty!
Just remember, any fandom is allowed.  And if the prompt inspires you in any way, it qualifies.  Just let me know which did so I can put the right prompt at the beginning of the story.  You can change any part of the prompt to work with your muse.
I'm putting these for the deadline of the 10th of December to give you time to write, but as always, if you need an extension, it will be granted.
Without much more fanfare, here you go.  (For the sake of those that have issues reading the cards, I am putting the words below)

1) With an awkward chuckle, he pointed to the mistletoe above their heads.

2) One brightly wrapped box under a tree, in a clearing in the forest.

3) Everyone received one present at Christmas that hints at what is going to happen next year in really cryptic ways.

4) Your character opens up a Christmas card to find out that it's addressed from themselves, 20 years in the future! What Christmas wishes and advice does the future version of them have to offer?

5) Satan (or a character of your choice) traveling around the world every Christmas to deliver presents to all the young kids who misspell Santa on their Christmas letter every year.

6) Your character walked away from the life they know and the people they love. Now they are coming home for Christmas for the first time since then.

7) The fireplace animated the shadows of the living room that had many Christmas memories in the years past.

8) Your character has just received a very special Secret Santa gift from a secret admirer. The character decides to figure out who gave him or her the gift. What happens next?

9) A character receives a gift mysteriously for the 25 days leading up to Christmas. Each gift is a hint helping the character recognize true love and friendship in their own lives.

10) A brokenhearted character decides to spend Christmas alone, away from family, friends and loved ones. However, fate has other plans for this character.
There they are.  I hope one of them at least inspires you to write!  And as always, the rules remain the same, but you can submit more than one story, as long as you do not let anyone know.  I look forward to seeing what you guys come up with.  The last time I did this, one of the stories so inspired a writer to publish their story!!!